We live in a world that is electronically connected. We see it in our cell phones and more and more often, we are connected to some things that we never thought would be online. This includes our appliances.
If you have an appliance with Wi-Fi, you probably take advantage of what it has to offer. Some things that it may offer is borderline ridiculous, but there also some conveniences that our appliances may have in store. This includes letting us know when a load of laundry is done.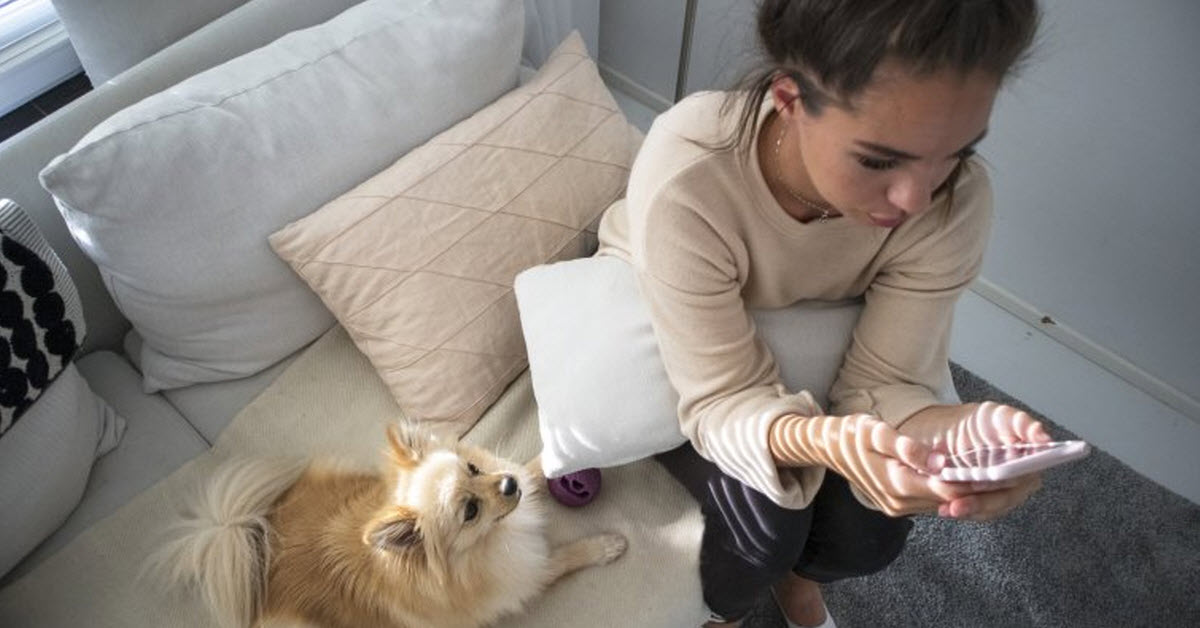 The woman in the story below had a new washing machine and dryer and she had it set up to alert her when the load was done. This was a convenience but unfortunately, she was away from home and the dog sitter decided to do a lot of laundry. It got under her skin, but was she being too sensitive?
Apologies that this is not directly dog related, but I figured many of us use pet sitters so y'all would have good advice on this situation.

I bought a house in November just far enough away that previous pet sitting options wouldn't work this Christmas, so I found a well-reviewed sitter on Rover who I met with and really liked. In both the word doc I left for her and in the walkthrough of my house we never discussed my washer/dryer which are in my garage so I don't think she even saw them. She never asked about doing laundry at my place either.

Now, I get that needing to pay for laundry sucks, and honestly I wouldn't mind if she'd brought it up with me and did a few loads. However, I have brand spanking new machines that are wifi-enabled and I had set up to ping my phone when a cycle was done, so now I know that in the 3 days she has been in my home she has done 9 loads of laundry, almost all on the 'bedding' setting which is water and heat intensive.

This feels like a frankly insane amount of laundry, and it bugs me that she brought that much with her and never discussed it with me at all. It also makes me really anxious because this is a 70 year old home and I needed the plumbers to make several improvements to get everything functional and the whole system is now under a whole load of stress without me there.

The dilemma I have is do I say anything? I'd imagine she has no idea I am aware of all the laundry. Am I making a big fuss over nothing and laundry is just a thing pet sitters are expected to have access to (even at this quantity)? Should I wait to say something until after I'm back home? Should I just let it be and maybe rethink having her back? Please let me know, I've never had wifi machines before so maybe I've just lived in peaceful ignorance and this is the norm.

(I have turned the laundry notifications off since this started bugging me, but it is under my skin now so I find myself checking the app at the end of the day so I see the total count.)

Edit: thank you all who chimed in, I am going to sign off to enjoy my holiday. I appreciate the range of inputs on this that really goes to show there is no standard approach to house sitting and laundry which means the responsibility was on me to set clear expectations even if I think it is excessive. I have sent her a quick "oops, I forgot to mention I've had some plumbing issues recently sorted out so please be on the lookout for backups or leaks" text and will politely bring up that the laundry is available to her, I'd just request that she keep it to 3-4 loads total when I am back home as long as everything else at home is all good. I am undecided on whether it should be included in a review, but I will not be reporting anything to Rover or risking her income because of laundry facilities. Happy holidays!

Edit 2: Because comments still seem to be trickling in. I am home now, my pets are safe and healthy, and don't seem distressed so I'm happy that they were well taken care of. My house, not so much. Thankfully it is mild and no damage was done that I can tell, but my back door was left unlocked when no one was home, the door from my house into the garage was left open which could have hurt my cat as there are chemicals etc out there and she knew he shouldn't be in the garage. I discovered that she'd clearly been using my car and now have a low tire warning, but at least she filed the tank up. The lint trap of my dryer was never emptied and after 14 loads through the week the buildup was significant to the point that I need to clean out the vent and I'm lucky the machine wasn't damaged or there wasn't a fire. There was a massive amount of loose food and trash in my recycling bin so I got to spend some time scooping mashed potatoes out of the bottom of the bin. That's not a complete list of the weird and disappointing things I discovered, but the rest is fairly mundane in comparison. Oh and out of all that laundry? None of it was the guest bed sheets or the towels so that theory was unfortunately wrong. She has ignored my texts and phonecall asking to speak to her, I haven't written a review yet because I felt it was only fair to talk and understand her perspective but the fact that she is ignoring me tells me she knows she overstepped appropriate behavior.
Source: Reddit